Ugandan Team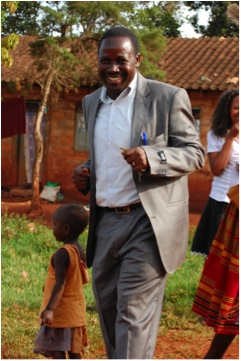 Rev Adundo Wafula Alfred
Rev Alfred Adundo Wafula established Macedonian Children's Outreach Project (MCOP) in 2005, in response to the desperate conditions he found the people of Masese living in. With a small amount of savings he helped fund 50 children to go to their local primary schools. His vision of a transformed community, lifted out of poverty has grown stronger as his relationships within the community have deepened, and MCOP became part of the umbrella NGO Macedonian Vision Africa (MVA) in 2012. With the support of his wife and family and his love for God, he continues to work with compassion for a forgotten and overlooked community.
Born in 1964 Bugiri district, Alfred moved to Jinja, Uganda in 2000. He married Rose in 1984 and was the Pastor at Nile Baptist Church, Jinja for many years until December 2019. From January 2020 Alfred will be committing most of his time to the work of MVA.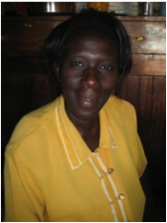 Abiya Betty
Abiya Betty also known as Senga was born in Jinja and is mother of three. She works in MVA full time teaching Bible Study, making beads, supporting the administration of MCOP and microfinance. Senga also supports and teaches the knitting group which consists of about 12 – 15 women from Masese.
Mutono James
Mutono James – Deputy in charge of Administration.
James is employed to oversee all financial transactions and activities at MVA. He also works with Pastor Alfred to set and monitor budgets, to ensure that funds are used appropriately. He joined MVA at the beginning of 2021 and came because he specifically wanted to work for a Christian organisation.
He enjoys praying together and the ethos of teamwork that there is at MVA.
James is an Arsenal supporter and likes to play football. In his spare time he is a gospel artist, going to the studio to record songs for you YouTube channel.
He got married in 2022 to Lidia, who is a branch manager for a microfinance company.
Ajambo Betty
Ajambo Betty – Teenage Mothers' Support Worker (MAYI) and Cosmetology Instructor.
Betty leads the support programme for the teenage mothers and is a hairdressing instructor in the vocational training institute. The programme provides the girls with 12 months training in hairdressing or dress making, so they have a skill that will enable to them to earn a living and support their children.
Betty likes working for a Christian organisation and as a woman, is passionate about supporting and empowering the teenage mothers.  She is married to Zablon and they have two daughters.
Betty trained in hairdressing at Macedonia Vision Africa and in her space time likes knitting and doing craft activities. She supports Manchester United football team.
Gonasa James
Gonasa James – Fashion & Design and Technology Instructor.
James teaches theory and practice within the Vocational Training Institute to Certificate and Diploma level, and also provides Certificate level training to the programme supporting the teenage mothers.
James is enthusiastic about working for MVA, he particularly likes the Christian ethos and discipleship. He worked in a vocational training institute in Eastern Uganda, before coming to Jinja.  He enjoys listening to gospel music and watching football.
Kadiba John
Kadiba John – Deputy in charge of Academic and Training.
As well as being deputy in charge of Academic and Training, John also teaches the theory side of Motor Vehicle Mechanics.  He teaches maths and technical drawing.
MVA works with a garage in Jinja town.  Students doing National Certificate have industrial training placements, so this is important.
The MVM training has only recently been set up and there are challenges developing the facilities for practical training, so students have access to manual and automatic vehicles.
John is married with two children.  They have a family home in his village, where he grows crops.
Ouma Bernard
Ouma Bernard – Pastor of Macedonian Community Baptist Church and Kiswahili teacher.
Kinabye Julius
Kinabye Julius – Head of Motor Vehicle Mechanics.
Born in Namutumba district, Julius has a National Diploma in Mechanical Engineering from St Benedict Technical College, Entebbe.
Before teaching Julius was working as a mechanic in Kakira Sugar Works, Lugazi Sugar and Engineering Solutions Uganda.
His previous teaching experience is at Nile Vocational Institute and as Principal of Bakrich Technical Institute.
He joined Macedonian Vocational Institute in 2022 as Head of MVM and driving.
He is married with two children and enjoys playing football.
Akello Maliam
Akello Maliam – Instructor in Fashion and Design.
Born in Ngora district she qualified as a Fashion and Design Instructor graduating with a diploma from Jinja Vocational Training Institute.
She started working at Macedonian Vocational Institute in October 2022 and has the ambition of studying for a Diploma in Area, specialising in fashion and design.
Maliam likes working at MVI because all the staff and instructors are supportive. Maliam says the students work hard and come and ask if they do not know things. She says they have a good number of manual sewing machines, but they could do with more of the modern electrical machines like they have in factories.
Maliam is single and likes to read her bible as it encourages her when times are difficult. She also enjoys playing volleyball and played at a national level.
Nasrid Boniface
Nasrid Boniface – Instructor in Building and Construction Practice.
Boniface completed a Diploma in BCP in Jinja and joined MVA in 2021.
He appreciates working with Alfred as Director and enjoys the support of fellow instructors, as they work together to solve problems.
He is married to Caroline and they have a young daughter called Betty.  In his spare time he undertakes small building projects.
He supports Manchester United football team.
Click here to see the Trustees of Macedonian Vision Africa →