Trustees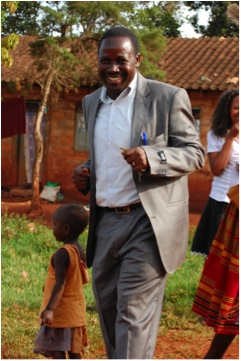 Rev Adundo Wafula Alfred
Rev Alfred Adundo Wafula established Macedonian Children's Outreach Project (MCOP) in 2005, in response to the desperate conditions he found the people of Masese living in. With a small amount of savings he helped fund 50 children to go to their local primary schools. His vision of a transformed community, lifted out of poverty has grown stronger as his relationships within the community have deepened, and MCOP became part of the umbrella NGO Macedonian Vision Africa (MVA) in 2012. With the support of his wife and family and his love for God, he continues to work with compassion for a forgotten and overlooked community.
Born in 1964 Bugiri district, Alfred moved to Jinja, Uganda in 2000. He married Rose in 1984 and was the Pastor at Nile Baptist Church, Jinja for many years until December 2019. From January 2020 Alfred will be committing most of his time to the work of MVA.
Adundo Egesa Stephen
Stephen Adundo Egesa is a graduate with a Degree in Social Work and Social Administration. He works with the youth in universities and colleges, preaching and providing pastoral support.
He is married to Mariam.
Rwenzo Jane
As well as trustee of MVA, Jane Rwenzo is an elder of Nile Baptist Church. She has supported and helped form the vision for MCOP since its establishment in 2005, advising on the best way to deliver a holistic service to the Masese community.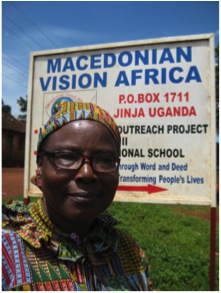 Kakuze Tabitha
Tabitha is a town planner for Jinja Municipal Council. Born in Buyende district she moved to Jinja after receiving a diploma in Architecture from Kampala in 1983.
She is a single mum of three sons, Ben, Jonah and Daniel and now has three grandchildren.
Tabitha has been friends with Pastor Alfred since an initial meeting about land for the Macedonian Project. She was asked to serve as Trustee when the project started in 2005.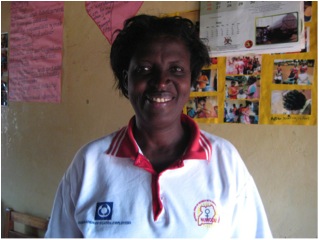 Kim Atwooki Agnes
Agnes has been a regular attendee of Nile Baptist Church for many years. Having got married there in 1985 she now has 5 children, 2 boys and 3 girls.
She was born in Western Uganda in a place called Tooro, and is one of ten children.
She is employed by National Water and Sewerage Corporations as an accountant and has recently graduated with a Masters of Business Administration.
Agnes has many voluntary roles:
Chairperson of women workers in Uganda, which is a Trade Union called 'National Organisation of Trade Unions'.
President of women who are trade unionists in Eastern Africa, in charge of 16 countries, through an organisation called 'Trade Union of Easter Africa'. She was elected to the role in September 2014.
Trustee of Nile Baptist Church, Jinja, taking on the role of treasurer
Chairperson for Jinja Child Development centre which is connected to Nile Baptist Church
She was invited to stand as trustee on Macedonia Vision Africa from its conception in 2005, after Pastor Alfred Adundo shared the vision of the project with her. She has the role of treasurer.