Betty – teenage mothers' support worker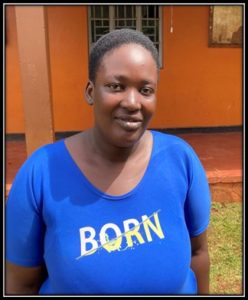 Betty leads the support programme for the teenage mothers and is a hairdressing instructor in the vocational training institute. The programme provides the girls with 12 months training in hairdressing or dress making, so they have a skill that will enable to them to earn a living and support their children.
Betty likes working for a Christian organisation and as a woman, is passionate about supporting and empowering the teenage mothers.  She is married to Zablon, the child outreach coordinator and they have two daughters
Betty trained in hairdressing at Macedonia Vision Africa and in her space time likes knitting and doing craft activities. She supports Manchester United football team.