Ugandan Team
Rev Alfred Adundo Wafula
Rev Alfred Adundo Wafula established Macedonian Children's Outreach Project (MCOP) in 2005, in response to the desperate conditions he found the people of Masese living in. With a small amount of savings he helped fund 50 children to go to their local primary schools. His vision of a transformed community, lifted out of poverty has grown stronger as his relationships within the community have deepened, and MCOP became part of the umbrella NGO Macedonian Vision Africa (MVA) in 2012. With the support of his wife and family and his love for God, he continues to work with compassion for a forgotten and overlooked community.
Born in 1964 Bugiri district, Alfred moved to Jinja, Uganda in 2000. He married Rose in 1984 and was the Pastor at Nile Baptist Church, Jinja for many years until December 2019. From January 2020 Alfred will be committing most of his time to the work of MVA.
Christine Nabwire
Christine Nabwire is the daughter of Pastor Alfred, and the founder of Macedonian African Youth Initiative (MAYI). Born in Bugiri Uganda, Christine is studying Human Resource Management at Busoga University, Jinja. On graduating she hopes to be able to commit more of her time to supporting the women and girls in Masese. She has completed sexual and social health training at Wise Choices for Life, and is teaching others facts in reproductive health
Abiya Betty
Abiya Betty also known as Senga was born in Jinja and is mother of three. She works in MVA full time teaching Bible Study, making beads, supporting the administration of MCOP and microfinance. Senga also supports and teaches the knitting group which consists of about 12 – 15 women from Masese.
Asio Ruth Lydia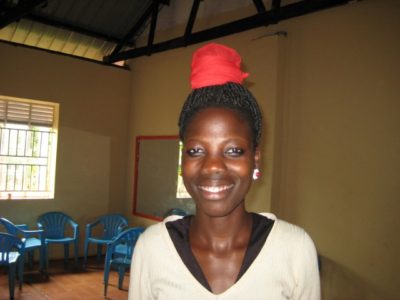 Asio Ruth Lydia was born in Jinja and attended Uganda Railway Primary school. On completion of P7 she then went to Jinja Modern Senior Secondary. Completed S4 and then attended NVI in Njeru under Ugandaid sponsorship. Ruth Lydia studied Cosmetology/hairdressing and graduated in Craft in October 2016.  Ruth Lydia has been working at MVA since June 2016 heading the Cosmetology department.
Ogema Charles
Born in Busia district Ogema Charles went to school in Buyengo primary school, from 1993 – 2000. Joined secondary from 2000-2004, completing his O level certificate, UCE (Uganda Certificate of Education) and then moved on to technical education in 2008 – 2009. He passed both his Craft 1 and Craft 2 in Iganga technical institute, Iganga district. He is a qualified Motor Vehicle technician.
Charles started working at MVA in March 2016 as the Motor Vehicle instructor.
Ndyamuhaki Silvest
Ndyamuhaki Silvest is the Macedonian Child Outreach Project Co-ordinator in post since November 2019. He has a Bachelor of Arts degree in Social Sciences from the Uganda Pentecostal University in Fort Portal, Western Uganda. Whilst studying he volunteered with Compassion International and from 2014 to 2019 at Kabarole Child Development Centre. From April 2019 until securing the position at MVA, he worked as a field supporter at the project called AIDS Information Centre.
Silvest's aim is to work hand in hand with children within the Masese community, guiding them to make the right choices, so that they prepare well in their future through education and other skills for sustainability. He also wants to work with the leaders in the community to help transform the community from absolute poverty and illiteracy, and preach the Word of God.
Okello Charles Dickens
Okello Charles Dickens joined MVI in March 2018 as its Principal. He has a wife and two young children who live with him in Jinja. He undertook a Diploma in theology at North Star in Tororo, a Diploma in Civil Engineering from Kyambago University in Kampala thereafter, he studied for a degree at the Ndejje University in Kampala in Technical Education. He then moved to head up the Civil Engineering Department at Tororo Technical Institute. Dickens is looking forward to setting up a Building and Construction Practice section, but also wants to be able to put in place good training for all the students at MVI. Outside work he enjoys preaching, reading and playing football – supporting Manchester United.
Nairuba Joanna
Computer training is now mandatory for all students enrolled on a vocational training programme. Nairuba Joanna was employed at MVI in Spring 2018 on a part time basis, to provide training for the students. Joanna attended Jinja Secondary School and then studied Business computing at Kyambogo University. She particularly wants to work with young people and was attracted to the position at MVI because it was a Christian organisation.
Outside work, Joanna is a member of the Jinja Christian Centre women's group and helps with the children's work. She is looking forward to settling down one day and having a family.
Click here to see the Trustees of Macedonian Vision Africa →